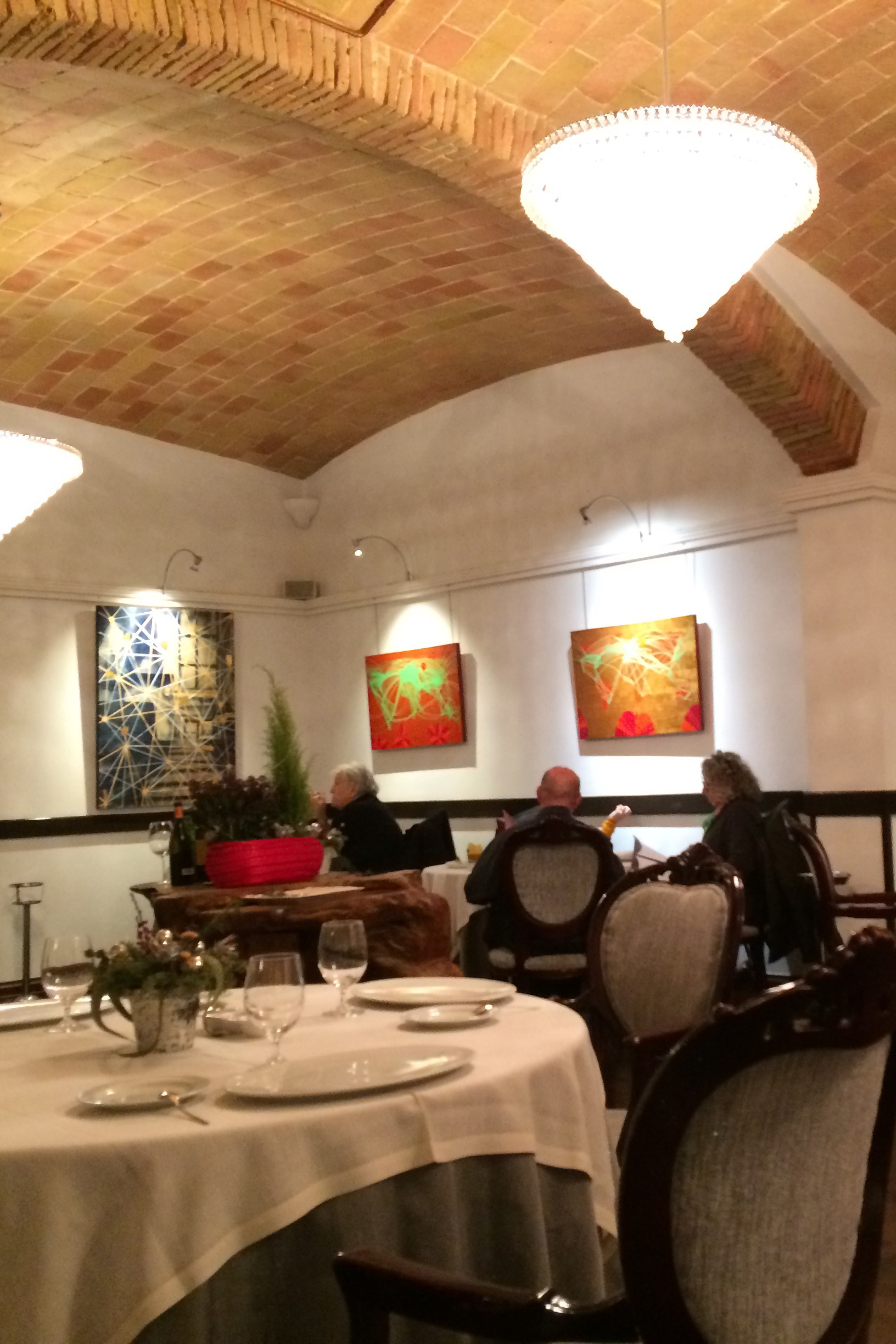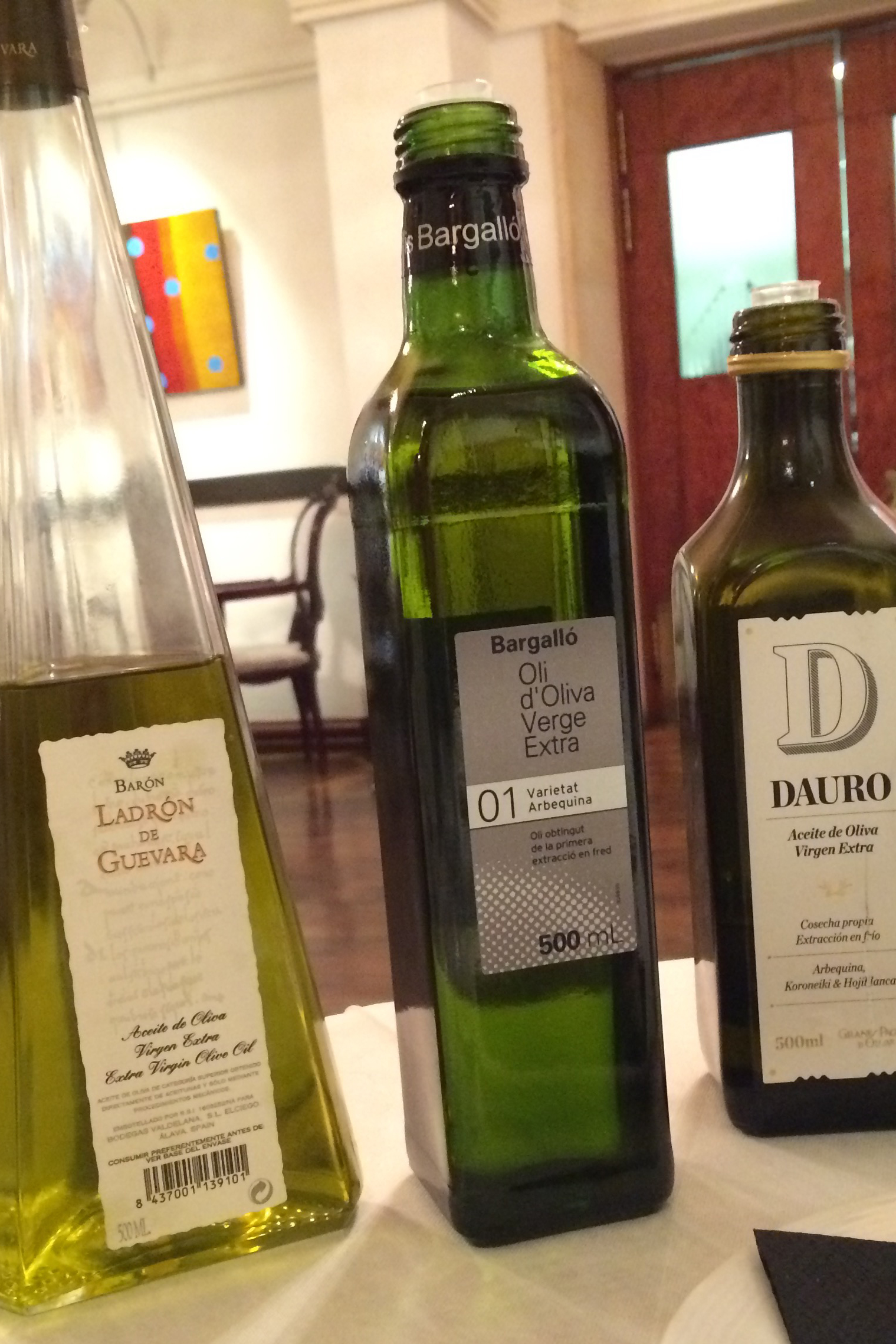 One advantage of living in Girona is the wonderful cuisine. After all, we boast nearby El Celler de Can Roca, a Michelin 3-star restaurant that is often listed as the "best in the world." We lowly mortals really can't afford the nearly 200€ price tag and one-year wait for a meal there, but there are several restaurants in town that aspire to a high level of cooking. Our present favorite is Divinum, located in the Old Town and only a few blocks from our apartment. For 35€ we can have an amazing tasting menu with five courses, plus wine, an amuse-bouche, sweets with coffee—and more.
At Divinum they take great pride in creating a relaxed atmosphere with great attention to detail. We sometimes watch as four waiters set dishes in front of four people at an adjoining table at exactly the same moment. If there are covers on the plates, they are lifted simultaneously, which makes a dramatic gesture. My wine glass is always kept full, and I am asked if every dish meets my expectations. There is ample space between tables, and the atmosphere is quiet and relaxed—but not stuffy.
Since we are regulars, the head waiter/owner remembers that we are gluten free and automatically adapts any dish that contains gluten for us. If that is impossible, he always has a substitute to offer. He takes great pride in going through the menu with us to tell us how he proposes to treat us. We never have to remind him and he seems to never fail. What a contrast to many restaurants where one has to put up with dishes that are lacking one of the main ingredients or salads that appear with croutons in spite of prior discussions with the waiter. We leave Divinum relaxed and satiated, and with pleasant memories.
Here is the menu for our most recent meal at Divinum: three starter courses, a choice of main dish, and a choice of dessert. Oh, and wine and bread are included in the price.
We started the meal with a "nougat of foie gras." The mousse of foie gras was laced with black mushrooms, the "Trompetes de Morte" (trumpets of death). In spite of their forbidding name, these little black mushrooms have a wonderful flavor. The plate was garnished with bits of apple and pomegranate purées, and other delicacies. In the background of the photo you can see an example of Divinum's graciousness—a selection of three gourmet olive oils with three flavors of salt, served with bread (gluten free for us). A feast for the eye as well as the palate.
The second starter course was a cylinder of hake with zucchini, ginger, and anise. In the center of the plate was a strip of hake with anise and ginger sauce, with strips of zucchini wound around. The lovely presentation was completed by tiny drops of sauces and other surprises. We marveled at these tiny gumdrop sized dollops of flavor. They complimented the dish and presented interesting contrasts of texture, flavor, and color. One senses a chef who is thinking and testing all the time and enjoys finding surprising ways to decorate and enhance every dish.
The third starter was a lightly poached egg on a potato purée, crunchy Iberian ham, and mushrooms. Warm, cozy, and simply delicious!
Now we come to the main course. We had a choice of four dishes and chose a choice cut of Iberian pork with a purée of beets, and bits of asparagus and squash.
For the dessert course the waiter gave us the most exaggerated forks and spoons we've ever seen. We wondered exactly how to wield such weapons, but we managed somehow. Since several of the four offerings were not gluten free, our waiter made other suggestions. We chose our desserts from his list: an extravaganza of red berries and foam and a variant on a piña colada. Wow, that was a sugar hit!
Finally, there was coffee and a little sweet. We lingered over our cups and mused about the culinary experience we had just had. We look forward to our next visit and to enjoying more of what Divinum has to offer.